The Power Cable Granulating Facility Copper Wire Recycling Machine is dry type structure, mainly used to all kinds of waste copper wire, the copper wire will be separated into tiny copper rice and PVC. This machine can recycle the copper wire which diameterer is 0.3mm-20mm. Automobile electrical wire or the electric wire of car, motorcycle electric wire, computer case wire and communication calbe, etc.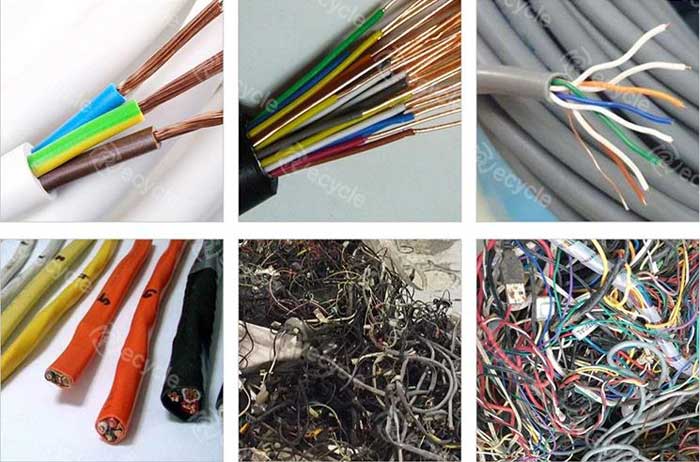 FIANL PRODUCTS:Power Cable Granulating Facility Copper Wire Recycling Machine process the waste electric wire and cable into copper and plastic granule. Copper is separated from the plastic, separation efficiency can be 99%. For the copper granule, it can be sold directly or go to further refining. Through our copper electrolysis machine, the copper can be refined into cathode copper in above 99.99% purity. The plastic granules normally are PVC or rubber material, it can also be sold directly.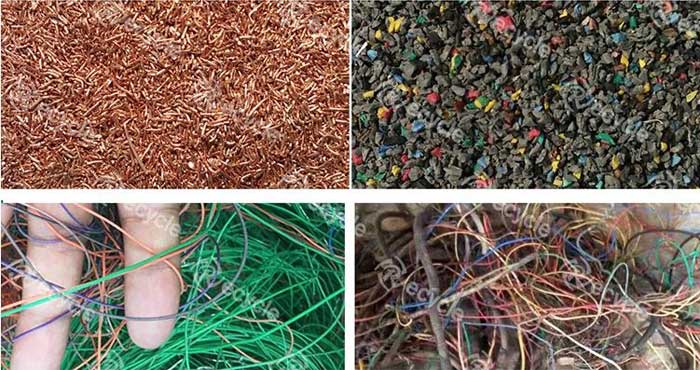 PRODUCT STRUCTURE:The Power Cable Granulating Facility Copper Wire Recycling Machine consists of shredding system, crushing system, sorting system and dust collection system. The whole process is controlled by PLC.
Through shredding, crushing, vibration screening, (the incompletely separated metal and nonmetal will reentry into the crushing machine and be crushed again) gravity separating, electrostatic separating and pulse dust collecting, the separation rate of the copper and plastic will reach about 99% , eventually get metal and non-metallic collective.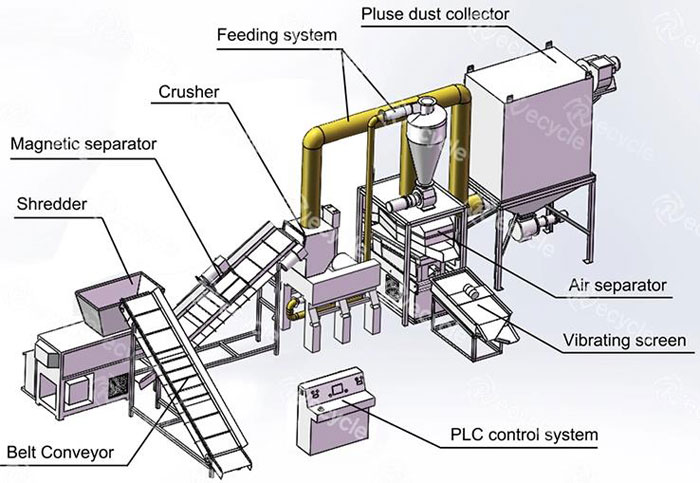 PROCESS DESCRIPTION:For the small capacity, the cable wire raw material can be put into the all-in-one machine directly, after crushing, then the air separtor will make the copper and plastic suspended on the screen. Then the Copper will be separated from the plastic by weighting method and the friction force which produced by the Surface of the mesh.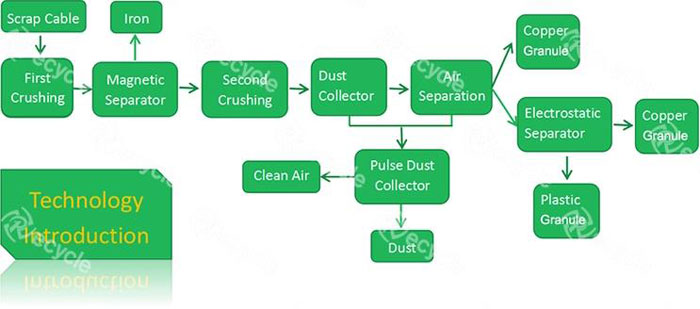 PRODUCT FEATURE:
1. Compact structure and reasonable layout, safe and reliable, easy to install, No dust outlet, the dust separation rate can reach up to 99%.
2. Controlled by PLC. Continuous feed, intelligent operation, automatic alarm make it easy to operate and save your time and energy, to ensure the stable operation of the equipment.
3. Back feeding system will crush the unfinished material again, which guarantee the totally separation of copper and plastic.
4. This Power Cable Granulating Facility Copper Wire Recycling Machine use the air separator and the high voltage electrostatic separator together, to improve the recovery rate up to 99%.
| | | | | |
| --- | --- | --- | --- | --- |
| Model | Power (Kw) | Weight (Kg) | Capacity (Kg/H) | Dimension (m) |
| RSK-TMJ200 | 28 | 1850 | 100-200 | 2.2*2*2.3 |
| RSK-TMJ300 | 39 | 2500 | 200-300 | 3.2*2.1*2.3 |
| RSK-TMJ400 | 45 | 3200 | 300-400 | 4*2.1*2.5 |
| RSK-TMJ500 | 68 | 3850 | 400-500 | 6.2*5*3.3 |
| RSK-TMJ800 | 75 | 5500 | 700-800 | 10.4*2.1*3.3 |
| RSK-TMJ1000 | 95 | 8200 | 800-1000 | 12*4.1*4.5 |
NOTE:
1. Working voltage:380±10V(415V ,440V also can be custom);
2. It can be customized fur 1t/h ur larger capacity.(If you want more detailed parameters and quotations, please contact us)