Waste Computer Printed Circuit Board Recycling Machine Equipment Plant Price is used to recycle all kinds of Printed Circuit boards, such as the computer boards, cell phone boards, TV boards, copper-clad laminate, and other household appliances, and the separation of leftover material of the mixed metal and nonmetal materials.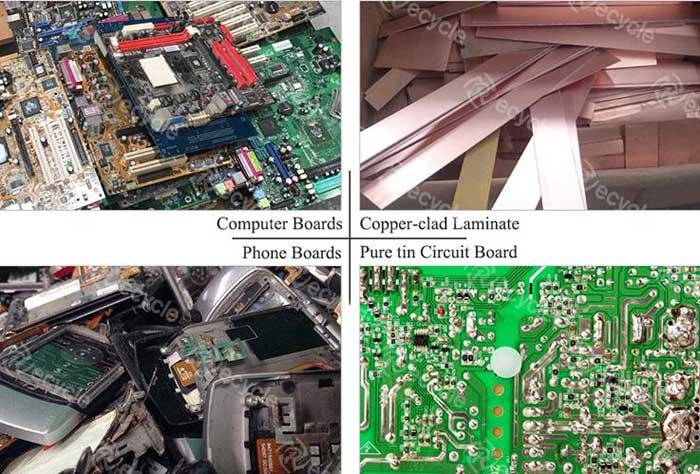 FINAL PRODUCTS:Because of the high value of the metals, fiber and resin, there is no doubt that this plant not only help to change waste into treasure, but also bring great economic benefits.Through years of practice and theoretical analysis, we obtain the best separation result, the separating purity can be reached to 99%.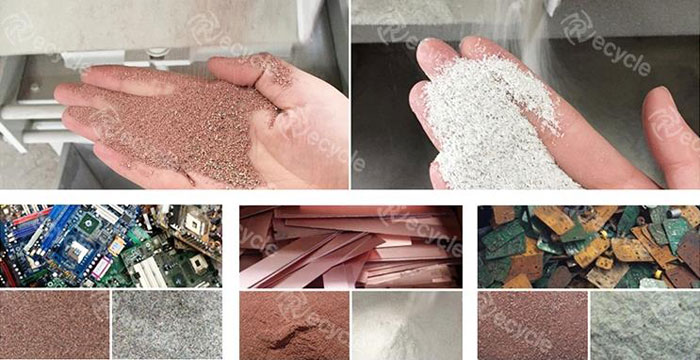 PRODUCT STRUCTURE:Waste Computer Printed Circuit Board Recycling Machine Equipment Plant Price is consists of shredding system, milling system, sorting system and dust collection system.
The whole process is controlled by PLC.Through shredding, grinding, vibration screening, (the incompletely separated metal and nonmetal will reentry into the grinding machine to be grinded again) gravity separating, electrostatic separating and pulse dust collecting, the metal and nonmetal will reach about 99% of separation, eventually get metal and non-metallic collective, and the valuable components after dismantling machine can also be recycled refined.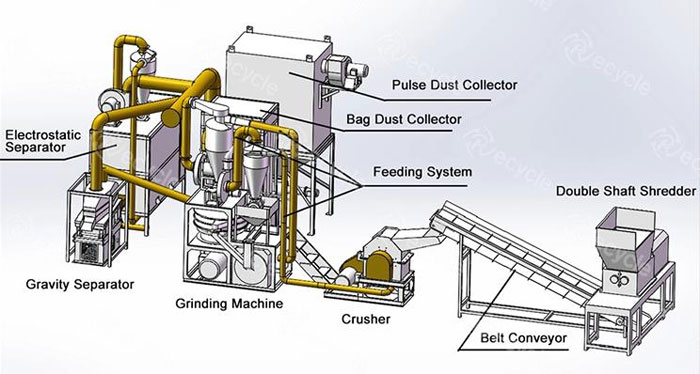 PROCESS DESCRIPTION:The first crushing machine we choose the double shafts shredder, and the second crushing machine we use the hammer crusher, and the third crushing machine we use the high speed turbine grinding machine, the material after shredding, crushing and grinding will be separated by the air separator and the electrostatic separator .It has the advantages of unique structure, large output and power saving. Several machines cooperation work after single loading of materials. Controlled by PLC This machine has good performance in copper recycling and comes with a device to prevent against secondary pollution The metal recycling rate is up to 99% which is the only in china.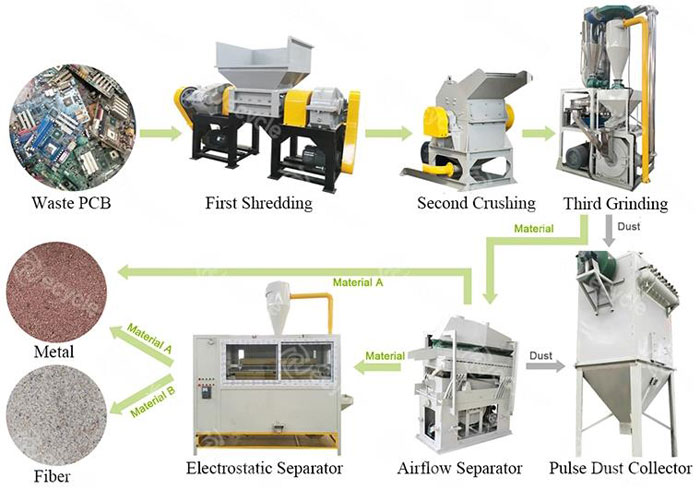 PRODUCT FEATURE
1. Suitable structure and layout, stable performance and recycling water is used to control temperature and reduce noise in the grinder;
2. Waste Computer Printed Circuit Board Recycling Machine Equipment Plant Price adopts PLC system, electrostatic separator makes higher and quicker separation, moreover gets more non-ferrous metal;
3. The negative pressure feeding system prevent the dust from running out, the separation rate of pulse dust cleaning device can reach 99%;
4. The separation rate of air separator can reach 97%, with the magnetic separator, the iron can be separated from other metals.
| | | | | |
| --- | --- | --- | --- | --- |
| Model | Power (Kw) | Weight (Ton) | Capacity (Kg/H) | Dimension (m) |
| RSK-PCB300 | 102 | 15 | 200-300 | 20*5*5 |
| RSK-PCB500 | 134 | 20 | 400-500 | 25*6*5 |
| RSK-PCB800 | 194 | 30 | 600-800 | 30*6*5 |
| RSK-PCB1000 | 238 | 40 | 800-1000 | 35*8*5 |
NOTE:
Working voltage:380±10V(415V ,440V also can be custom);(If you want more detailed parameters and quotations, please contact us)