ULAB Vehicle Battery Recycling Plant is suitable for recycling all kinds of lead-acid batteries, such as automotive battery, truck battery, electric bicycle battery, etc.
There are different alternatives to the final disposition of batteries: landfill, incineration and recycling. As for this situation, we designed the All-In-One lead acid battery recycling machine for lead battery separating and recycling, which is few pollution and easy to operate.
FINAL PRODUCTS:The final products of ULAB Vehicle Battery Recycling Plant are lead and plastic shell.
The ULAB Vehicle Battery Recycling Plant is environmental protection. Firstly the scrap lead acid battery will be separated by the "Battery Separating machine". The final produts of separation section is plastic, lead, acid. The coarse lead can be refined by Smelting Section. And then you can choose the Cupola Furnace to get the refined lead ingot if you want to get deeply recycle. As for the Smelting Section, there is also Air Pollution Purify System to meet the environmental protection policy.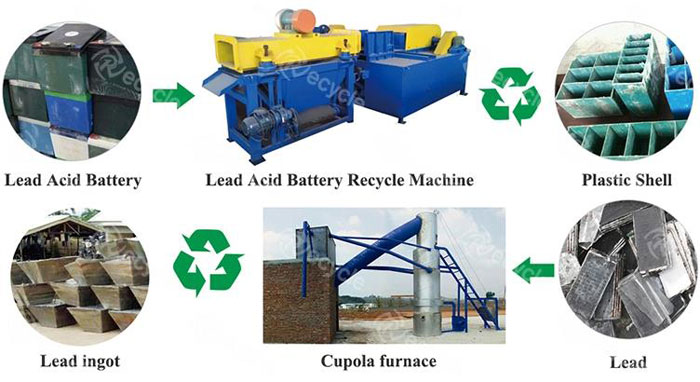 PROCESS FEATURES:
1. Suitable structure and layout, stable performance, Environmental friendly production line.Separating section: pure phycisal separation.Smelting section: Air Pollution Purify System Technology is the guarantee, Quality is the life; Service is the foundation, Brand is the target.
2. Production line can adopt to different venues, Production line installation is convenient, Full automatic working, save labor.
| | |
| --- | --- |
| ITEM | DIMENSION |
| Battery Cover Remover | 2200*2000*1300 mm |
| Lead Separator | 1800*1700*1600 mm |
| Raw Material | Waste Lead Acid Battery |
| Feeding Port | One feeding port(feeding size can be customized) |
| Operator Required | 2 Workers |
Option:
1. Standard model machine body made of durable steel .stainless steel acceptable as optional choice.
2. OEM acceptable .entire machine could be made according to different size of batteries.
3. 12 months warranty .one complete set of wearing parts delivery with machine for free.
4. Battery shell cleaning and crush system and crush system available as option.